Notifyr 5.0 release notes
Release date: 18 Nov 2019
In Notifyr - Notifications for Bitbucket 5.0 we're introducing a range of new and updated features, including a powerful new addition to customize your templates.
What's new
Customize your notification templates
I'm happy to announce that it's now possible to customize your notifications templates! It has been a highly requested feature and available today!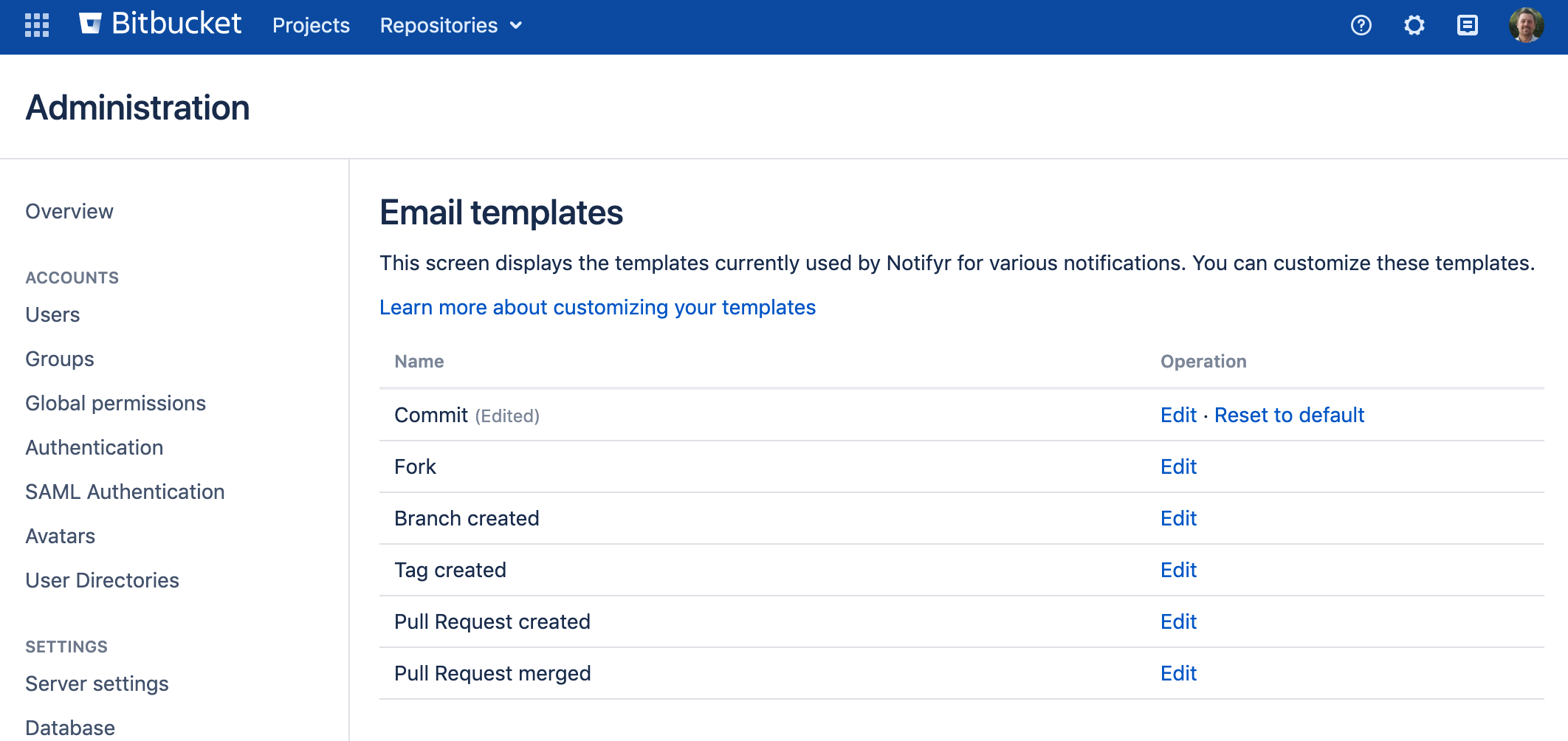 The templates are customizable on a global (Bitbucket admin) level and do require some knowledge about HTML. The templates are based upon the Jtwig Templating Engine so it's easy to add some logic to them. Learn more about customizing your notification templates
Favorites moved to a standalone app

Favorites have been a part of Notifyr for a long time, and recently it has been promoted to a standalone app for Bitbucket! Having Favorites for Bitbucket as a separate app lets organizations pick and choose what they are looking for in apps. Both Notifyr as Favorites have their clear use cases, and it makes more sense to separate those.
In this release of Notifyr, the favorites feature is removed. To continue using this feature you'll have to install the Favorites for Bitbucket app
If you have an active Notifyr license purchased before 1 Oct 2019, you're eligible for a free license for Favorites, request one using the ASK Service Desk.
The 100% discount applies to the first year only, after which Favorites has to be renewal as normal. Promotion codes can be requested until the 1st of July 2020.
A new logo
More products are joining the ASK Software family, so I took some time to update the look-and-feel of Notifyr's logo to match the product family.
I'm updating the website, documentation, and screenshots so it's possible to come across both logos. It's the same product!
Changelog
This section will contain information about the Notifyr - Notifications for Bitbucket 5.0.x minor releases as they become available. 
5 March 2020 - Notifyr 5.0.3
New: The macros used in the email templates can now be edited, allowing for even more customization
Fixed: In some situations, Notifyr was missing information required to sent notification. These exceptions are now handled better and allows Notifyr to sent better notifications.
Fixed some technical dept and added additional debug logging.
21 January 2020 - Notifyr 5.0.2
Fixed JavaScript errors for Bitbucket Administrators so other apps also work as normal.
15 January 2020 - Notifyr 5.0.1
Fixed: Unable to select a repository in Notification helper
Fixed: Additional checks when sending notifications to prevent Notifyr from having errors - ASK-90
Fixed: Changing the Log level required system administrator permissions.
---
Notifyr can't succeed without your feedback, insight, and recommendations for improvement. Please keep sending your feedback. Thanks so much!